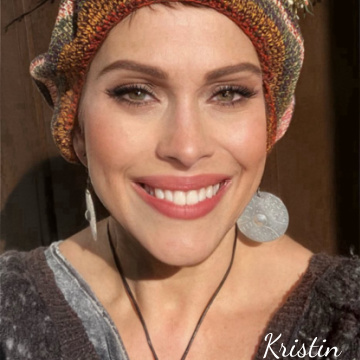 Designer & Owner, Kristin Klein's artistic flair was confirmed at a very young age, when she was accepted to dance for the Boston Ballet Company at 11 years old. After many years as a ballet dancer, she retired and majored in art and communications in college. "I have always been artistic and have always been enamored by the art and craft of jewelry design, a skill I learned through books and experimentation. My labor of love began in 1991, when I acquired a piece of Pyrite from New Mexico. Once in hand, I turned it into my first unique necklace creation.
One day in 1995, while working as the manager of a small gift boutique, I was wearing the pyrite necklace I had made. The owner complimented me on my unique necklace, and when I told her I made it, the owner offered to sell my necklaces in her store. Later, I branched out on my own selling my necklaces to gift and clothing boutiques, family and friends and a few larger retail stores. I opened my first online store KVK Designs Natural Stone Jewelry & Unique Gifts (www.kvkdesigns.com) in the spring of 2000 to bring together my love of Art, Natural Stone Jewelry Design, Boho Style and Fair Trade.
I love the natural approach and have always used all natural bath and body products. I believe what we put on and in our bodies matters.  KVK naturals carries all natural handmade soap and organic products. Our handmade soaps are formulated in a vegetable oil base, containing a variety of natural herbs, fragrances, and other raw materials for a delicious bathing experience that indulges your senses. All our handmade soaps & organic bath and body products are Sulfate Free, Paraben Free, Cruelty-Free, GMO Free, Organic, All Natural and Handmade with Love.
Enjoy!!